Mechanical Design Engineer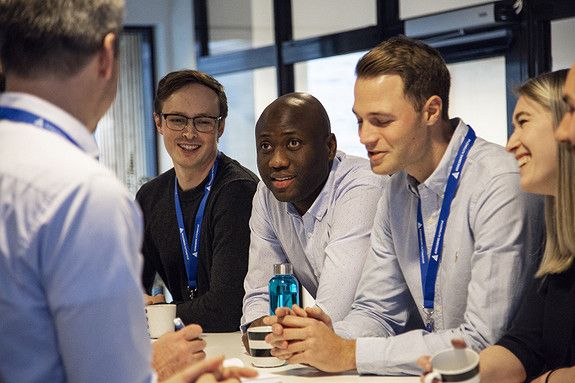 Stillingstittel
Mechanical Design Engineer
Arbeidsgiver
Kongsberg Automotive AS
Bransje
Industri og produksjon, Bil- og bildelproduksjon
Stillingsfunksjon
Ingeniør, Ingeniør/Mekanisk, Design/Industri
Do you want to be a member of our team? We are looking for skilled co-workers within Mechanical Design to our Technology Center in Kongsberg working within our "Powertrain and Chassis" product area. Kongsberg Automotive develops and manufactures advanced components for commercial vehicles and passenger cars, with the Technical Center in Kongsberg developing advanced mechanical and mechatronic actuator systems for gear actuation and power train applications for the future vehicle platforms. We work directly with the leading passenger and truck customers.
We are seeking you that is genuinely interested in product development. We can offer an open and innovative environment where you will be involved and have influence on your own work and the final product from the initial sketch and all the way through to serial production. Strong focus on innovative solutions for tomorrow's vehicles combined with a highly competitive market gives great and interesting challenges for all our engineers to consider all aspects of design, from cutting edge solutions to considerations in terms of manufacturing, durability, sustainability, and cost. We offer a strong corporate culture with focus on innovation and teamwork. KA's Technical center in Kongsberg has also a state-of-the-art test laboratory, which is key in conceptualization, prototyping, design experiments and validation testing.
Responsibilities
Idea and concept generation

Mechanical design and development activities according to KA's development processes within one of our product teams

3D modelling, tolerancing (GD&T), 2D drawings.

Basic mechanical calculation and simulation

Design for manufacturing/ assembly evaluations.

You will be part of a core product team and working in active development projects.

Close cooperation with all involved disciplines in the development project; testing, manufacturing, purchasing, suppliers, sales, and customers.

Working within an efficient team, you will have a central and visible role towards the product success.
Experience and knowledge
Graduate engineer at BSc or MSc level, primarily in mechanical engineering

Experience in using simulation tools/ FEA as part of design activities

Skilled user of CAD tools, preferably SolidWorks and/or Catia V5.

Engineering experience from product development / production is preferred.

Good experience in GD&T (Geometrical Dimensioning and Tolerancing), functional dimensioning and quality assurance tools like FMEA.

Familiarity with Topology Optimization and Additive Manufacturing is beneficial.

Experience in mechatronic engineering and electronic integration is beneficial.

Team player with a strong drive and a positive attitude.

Analytic mind set and problem-solving approach.

Ability to turn theory into practice and used to work in a structure and independent way

Fluent communication skills (verbal and written) in English is required.

Beneficial with language skills in Norwegian, Swedish, German or French.
We can offer a modern office environment and a challenging position at an ambitious and skilled team.
You will have the opportunity to grow with the task and to assume greater responsibility within the organization. We give great emphasis to personal eligibility.
If this sounds interesting and likely the right challenge for you, we look forward to receiving your application!
The applications will be handled on an ongoing basis and the position may be filled before the application deadline date.
Working in KA: https://jobs.kongsbergautomotive.com/content/Working-in-Kongsberg-Automotive/?locale=en_US
Our Technology Center in Kongsberg: https://www.kongsbergautomotive.com/contact-us/scandinavia/kongsberg-automotive-headquarter--tech-center/
Kontakter
Kontaktperson:

Simen Skiaker

Stillingstittel:

Director Mechanical Design, Europe

Telefon:

+47 982 14 052
Sted
Adresse: DYRMYRGATA 48