Sales & Marketing Director Offshore Wind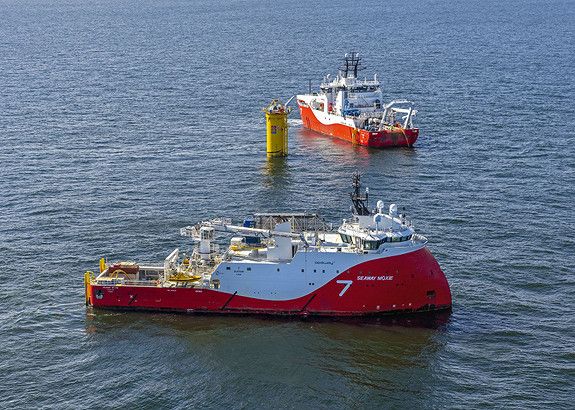 Stillingstittel
Sales & Marketing Director
Bransje
Kraft og energi, Maritim og offshore, Shipping
Stillingsfunksjon
Ledelse, Salgsledelse, Markedsfører
Seaway7 is regionally organised around two business units: UK & Asia Pacific (BU-1) and Europe & USA (BU-2). Within our BU-2, we are looking for a Sales & Marketing Director, reporting to the VP for this region. You will be leading a sales and marketing team and you will have full responsibility and accountability for securing a portfolio of large and complex projects across our full range of services (cables, foundations, turbines).
KEY RESPONSIBILITIES
Focal point for all sales and marketing related activities for the business unit, lead customer dialogue and communications in the BU.

Key focus areas are ensuring customer satisfaction, quality order intake and a balanced risk reward profile. In a matrix set-up, support cross-functional deal teams consisting of engineering, construction, legal, service, and finance professionals; from identification of opportunity to receipt of proposal with follow up thereafter and across all tracks of sales activities.

Ensure compliance with and consistent execution of Seaway7 sales process, gate reviews and internal and external reporting.

Analyse customer needs and formulate Seaway7 value proposition to customers.

Establish and maintain relationship with clients, strategic suppliers and possible partners.

Development of commercial, pricing and positioning strategies and help identify and meet customer requirements.

Attend industry conferences and customer events and provide feedback and information on market developments, customer needs and competitive landscape.

Work to achieve the best commercial position whilst minimising risk.

Coordinate across the business unit to establish long term project execution strategy

Review and endorsement of the tenders for the business unit with specific focus on key risk. mitigation, execution plan and cost estimate.

Support & lead the development of sales and marketing resources in the BU through clearly understood roles, responsibilities and performance objectives, regular feedback and professional training.

Drive continuous improvement.

Act as the BU representative to report any arising issues (HR, resourcing or others) that require functions intervention/specific support.
Qualifications/ Experience:
Master or Bachelor degree in business administration, economics and/or engineering. Candidates who are in possession of relevant work experience in a similar role or who have relevant industry experience in lieu of formal qualifications may also be considered.

Relevant Experience: experience holding a similarly customer focused position within the renewable industry would be advantageous. Candidates should demonstrate a solid business understanding and know what it means to be customer centric.

Proven track record in managing customers or driving business performance as a key account manager or business development manager, where you have demonstrated ability to handle large accounts and cover all aspects of doing business (sales, contract negotiation, project management, O&M and technical etc.

Candidates should be able to demonstrate an advanced level of business based communication & presentation skills which are mindful and respectful of all personnel at all levels throughout the organisation and demonstrates ability to effectively communicate in high profile situations. Excellent presentation skills are viewed as key to the role.

Good experience in leading & developing teams to deliver excellent performance.

Must produce work of a high standard to Management which is accurate, focused and detailed. The ability to produce and present management reports of a technical nature would be advantageous.

A proven ability to effectively negotiate is deemed a pre-requisite. The ability to present convincingly to clients on the services offered by the Company and to engage with clients effectively on these subjects is also considered to be a pre-requisite for the role. Candidate is expected to have a thorough understanding of (commercial) contract models and managing risk through the tender lifecycle.

Network in offshore wind sector considered beneficial.

Candidates should work flawlessly with IT tools such as O365, SAP CRM and Project Builder etc.

A strong ability to talk convincingly about the company's offerings and to engage with the clients on these subjects is essential.

Commercially & contractual acumen is essential.

Regular travelling is part of this role (1-2 days on average).
Seaway7 are committed to creating a diverse workforce and we look to offer excellent career opportunities as you develop your skills and aspirations.
Kontakter
Kontaktperson:

Fredrik Jacobsen

Stillingstittel:

HR Norway & Denmark
Sted
Adresse: Askekroken 11